This week saw four consecutive days of topic-themed dress-up days for the whole of Key Stage 2.
All the children made a tremendous effort with their costumes, so a big thank you goes out to all our Key Stage 2 parents for helping bring the topics to life.  During the course of each day the children took part in a range of activities, switching from classroom to classroom to experience and learn about different topics.
---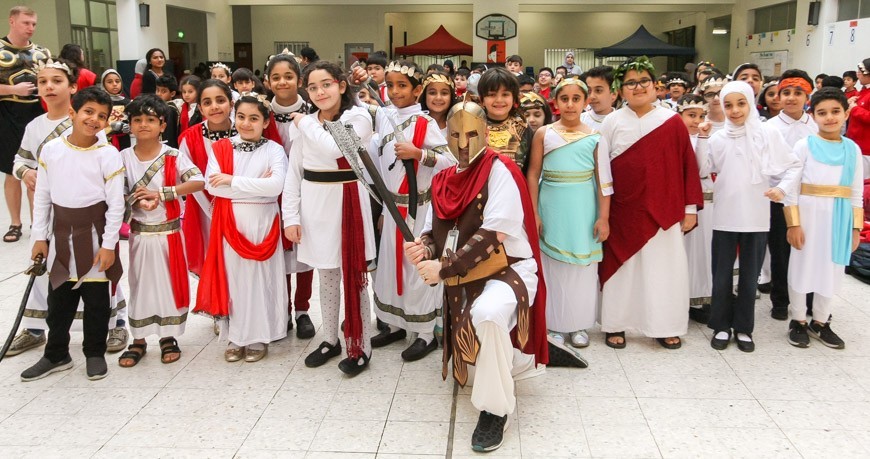 ---
The Romans – Year 3
On Sunday, Year 3 had a wonderful time participating in Roman day with everyone dressed in fantastic Roman outfits.
---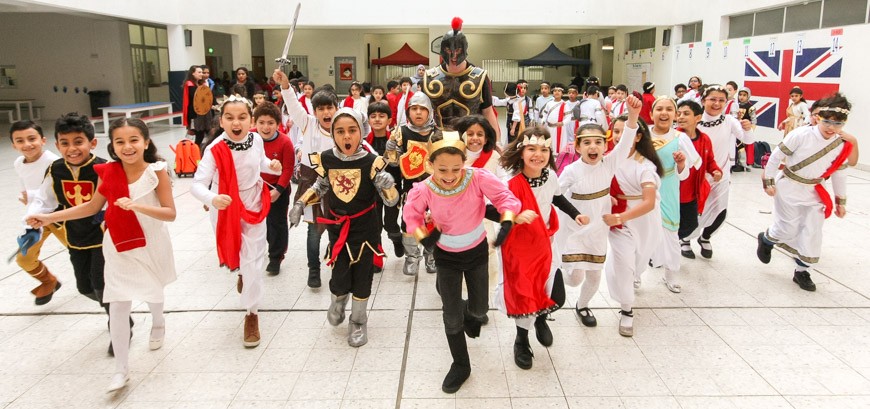 ---
In one classroom, pupils had a lot of fun using shields to perform different battle formations that the Roman army used to invade and defeat the Celts.  In another classroom they looked at the types of armour the Roman soldiers would wear and created their very own Roman helmet.
---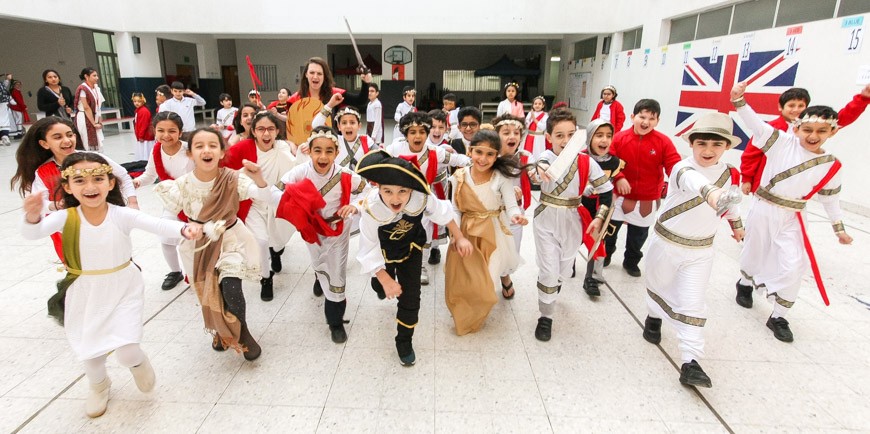 ---
The next classroom was all about Roman art, specifically mosaics.  Each pupil created their own mosaic using coloured paper instead of tiles.  In the final classroom, the children created their own Roman wreaths that would have been worn on their heads as a symbol of victory.
These were all excellent ways to really engage the children in the topic and we will continue to look at these concepts in more detail as the year continues…
The Vikings – Year 4
On Monday, GBA was invaded by a clan of Vikings from Year 4!  All the pupils made a tremendous effort with their costumes.  During the course of the day the children took part in three activities.  First, the children had to discover photographs placed all around the school as a treasure hunt.  These photos included Viking clothing, weapons, paintings and villages.
View this post on Instagram
Next, pupils learnt about the clothes that the Vikings wore.  They discovered that the Vikings did not wear horns on their helmets and some pupils were surprised to learn of this fact.  They also created their own Viking cone person to take home with them.
Finally, Year 4 discovered the Viking 'runes' and were able to write their own names and secret messages to their friends, just like the Vikings did.  The children thoroughly enjoyed the day, learnt many new facts and most certainly brought Viking history to life.
Space dress-up day – Year 5
Year 5's space day began with a fashion parade.  As well as being divided into their classes, pupils were also grouped into categories depending on the costume theme they were wearing.
View this post on Instagram
This linked into the Mathematics curriculum component of groupings and sorting similar objects.  The pupils were asked to explain their costumes and a little about the characters that they were portraying, which linked in well with the English curriculum component of speaking and listening.
In class, there were a number of different activities that included; a space crossword, a word-finding challenge and an "adventure to space" writing activity.  The crossword hooked into last term's Science topic of space and our solar system.  The word-finding challenge linked into our English curriculum topics of spelling and vocabulary.
The Ancient Egyptians – Year 6
On Wednesday, Year 6 enjoyed an exciting day based on the theme of Ancient Egypt.  The children wrote about themselves using hieroglyphics and solved mathematical problems linked to Ancient Egypt. They also had the opportunity to improve their reading skills by reading about Ancient Egypt and answering comprehension-style questions.
View this post on Instagram
It was wonderful to see all of the children thoroughly engaged and immersing themselves in their learning.  This has complemented our work on ancient Arab civilisations that we have studied via the KSS Book.
Why do we have dress-up days?
Thematic dress-up days are fun and educational for pupils.  They can also build class and school spirit; encourage creativity and imagination; enable self-expression; celebrate hard work; and promote attendance and participation.  It's also an opportunity for you, our parents, to get involved while at the same time creating memories that your child will never forget.
And who can forget the splendid daily effort made by our Key Stage 2 Coordinator, Mr Lee…





Note: More images will have been shared with you directly and via our social media channels.