As mentioned in our Bake Sale 2020 article, the proceeds from that fund-raising event will be donated to the Bayt Abdullah Children's Hospice (BACCH) — a hospice that provides the highest standard of multi-professional palliative care and family support to children with life-limiting or life-threatening illnesses throughout Kuwait.
To make the donation, we gathered together our Student Council representatives for a pre-arranged tour around BACCH's premises and facilities.
Our Student Council was introduced to the work of the hospice, its services and met staff from various departments.  They were given the opportunity to ask questions, which ranged from treatment types and home care to what are life-threatening/life-limiting illnesses?  All valuable learning when developing a child's understanding of life, mortality, loss and bereavement.
---
---
The tour continued with a look at BACCH's facilities, among them; a cafeteria/restaurant providing nutritious (and tailored) meals for children and their families (its low-sugar cookies are fabulous!); an outside activity area complete with ferris wheel; a complex of family respite chalets; plus play, library and reading areas.
At the end of the tour, we were kindly presented with a lovely certificate to say thank you.
---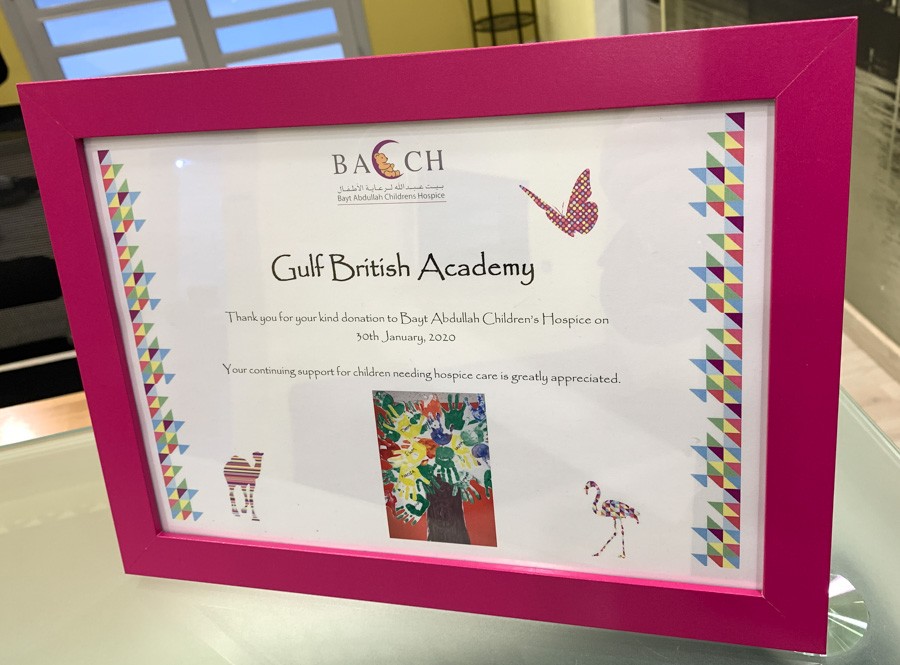 ---
We'd like to thank Bayt Abdullah Children's Hospice for making the time for our visit.  It's so important to be involved within the community in ways such as this.  Our Student Council are now better informed about the purpose of a hospice and how a child-friendly, family-centred, welcoming environment is so important for palliative and end-of-life care.
Information and ways to help
Read more about the history of Bayt Abduallah Children's hospice.
If you wish to volunteer, more info can be found here: Volunteering at BACCH.
To make a donation, visit: Support BACCH.
---
---